I used to follow all the NBA mock drafts religiously. For years, I'd dive into every Chad Ford mock column, reading up on how the draft should go. Year after year, I'd be disappointed that the mock drafts would almost never match the real thing. It was silly of me to assume that things would work out that way—after all, what's the point in watching the draft if the whole thing is scripted (in Stern's NBA, it wouldn't surprise me if it actually was)? Mock drafts usually get blown up because of trades, or the simple stupidity of most NBA GMs. Teams would swap draft picks for cash, other players, "future considerations," and picks in the distant future. It was a mess to keep track of. This year, however, there was no chaos. There was only one first round trade compared to 7 in 2011, 7 in 2010, and 3 in 2009. There was a predictable dryness to the 2012 draft, but some major talking points still popped up.
The biggest moves were perhaps the ones that didn't happen. The Bobcats refused the Cavaliers advances to trade up to the #2 pick. That led to Bobcats taking Michael Kidd-Gilchrist, a player who's now expected to shoot the ball 15 times a game, despite not being a great scorer. He only averaged 11.2 points a game on 8 shots at the University of Kentucky, and now has to carry the Bobcats. Yikes. But if there's a player who's prepared to step-up and lead immediately, it's Kidd-Gilchrist.
Because the Bobcats refused to give up their pick, Cavs ended up missing out on Bradley Beal, who landed in the Wizard's lap at the #3 pick. He'll now battle John Wall for touches in the back-court. The Cavs, desperate to add a scoring threat, reached for Syracuse guard Dion Waiters at the #4 pick—someone who never started a collegiate game. Curious move.
Two other non-trades that are likely to have an impact on offseason proceedings: potential Pau Gasol and Dwight Howard trades. The Rockets had been stockpiling picks in an attempt to trade for either of them. Dwight Howard was a small possibility, as he changed his mind (for about the 10,000th time) and has spent the past few days trying to force a move, preferably to the Nets. The Nets had flipped their first round pick for Gerald Wallace, so how Howard was going to get his desired move before the draft was beyond me. The Rockets failed to land either big man, or move up into the top 10 to grab Andre Drummond. Rockets GM Daryl Morey has got to be thinking, "Great, now I have three rookie 1st round picks on my roster, none of whom are lottery picks. I wonder if Paul Millsap is available?!"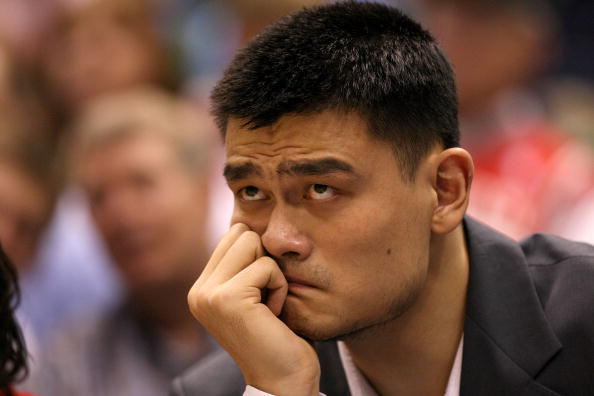 The Kings managed to not screw up their pick, taking Thomas Robinson at the #5 spot. He'll spend the year tag-teaming the boards with Demarcus Cousins while the rest of the team jacks up shots and plays no defense. NBA fans in Seattle light candles of hope.
Harrison Barnes slid down the draft like everyone pre-workouts expected him to. Yet after he tested so well, he was expected to be a top-5 pick. He fell to the Warriors at #7, giving them a 1-3 that looks like this: Steph Curry, Klay Thompson, and Harrison Barnes. It'll be raining 3s in the Bay next season! With David Lee and Andrew Bogut in the front-court, the Warriors look promising. (Sorry for giving Warriors fans false hope!) But since they're the Warriors, they'll probably be in the lottery again next year. Hey, at least they'll be a fun team to play with in 2K.
The Pistons took Andre Drummond/Kwame Brown 2.0 at #9 overall, giving him a chance to team up with Greg Monroe in a front-court that'll get the fans buzzing for about a week.
The most controversial pick of the whole draft, and the worst one in my estimation, was the Hornets pick of Duke guard Austin Rivers at #10. There's an inherent problem with Rivers: he thinks he's Kobe but he's not Kobe. Imagine if Kobe Bryant was still himself mentally but wasn't nearly as talented—he'd basically be a member of the Kings, but with chemistry-killing tenacity. Rivers is a fake point guard who had more turnovers than assists last season. He's got a chance to average 15 points a night in the NBA, but the Hornets already have a big-time scoring guard in Eric Gordon, who's arguably the 4th best shooting guard in the league. (Think about it. After Wade, Kobe, Harden, and Joe Johnson, who's left? Monta Ellis? DeMar DeRozan?) Why take away shots from Gordon when there was an opportunity to draft Kendall Marshall? He's the best passer in the draft, who the Suns eventually snapped up to be Steve Nash's successor. It would make too much sense to pair the draft's best passer with Anthony Davis and Eric Gordon.
Of all the teams that stood pat, the Thunder came away strong. They were making a push to trade up to grab Bradley Beal, but were unwilling to part with James Harden in a deal. Instead, Baylor forward Perry Jones III fell to them at #29. Once seen as a potential lottery pick (New York Times Magazine profiled him in March 2011. They compared him to Magic Johnson and Tracy McGrady. Remember though: it's the New York Times Magazine with a sports feature not written by either Michael Lewis or Malcolm Gladwell), Jones III vastly underachieved at Baylor. He's a slender, athletic big man who's very raw, but that's just what the Thunder need: athletic bigs. He can run the court better than any forward in the draft, and he'll thrive in the Thunder's track-paced transition offense.
The Celtics walked away with easily the best draft (outside of getting Anthony Davis, of course). Jared Sullinger fell all the way to them at #21. Sullinger had been red flagged by NBA teams for his back troubles, but at #21, he's a steal. He averaged nearly 17 and 10 at The Ohio State last season, and was rated as the best low-post player in the entire draft. A player that productive at a major basketball program should never fall that far for injury worries. (See: DeJuan Blair and his lack of ACLs.) For a team that lacked any post presence whatsoever in 2012, Sullinger is a huge boost. The Celtics took Fab Melo at #22, landing a defensive weapon who'll own the offensive glass. The Celtics got bigger to protect Kevin Garnett and Brandon Bass. Throw in center Greg Stiemsma to that rotation, and the Celtics all of a sudden have a very versatile and deep front-court. One more run at the title? With Rondo, Pierce, and Garnett, anything's possible.
Follow Justin on Twitter @jblock49